Speaking Services that Get Results: No Theory, No Fluff, Just Real-Life Application for Attendees
"Marcus rocked Content Marketing World.  By far, he was the most talked about speaker at the event, leaving a lasting impression of great content + amazing style.  Looking forward to making Marcus even a bigger part of our event next year."
Joe Pulizzi of Junta42 and CMI
Many people think upon reading this blog that writing about sales, marketing, and personal development is my focus, but in reality my great joy in life(other than family) is the gift God has given me as a verbal communicator. At the risk of sounding rather cheesy, the one place I feel at absolutely peace and ease is when I'm able to speak to an audience and in some way help other people and businesses reach their potential. In a nutshell, this is my speaking style:
High Energy
Almost NO PowerPoint (who wants to be read to?)
Heavy Audience Participation
Loud Laughter
Speaking Topics
As for topics I speak about, here are a few that might be of interest to your company:
How to build your brand and become the voice of your industry through content marketing
The Digital Consumer: How today's buyer has completely changed and what your business can do about it
The Future of Sales and Marketing: How to eliminate silos and get incredible results
How to be a Digital David in a land of Goliaths
The power of transparent marketing and the myth of "secret sauce".
Becoming a thought-leader in an age of followers
How to integrate content marketing into your entire sales process
Yes You Can!! The ability for business owners to be internet savvy in 2015 and beyond
ANLA Conference, Louisville, 2012
Here's another testimonial from the very well known MarketingSherpa:
Marcus Sheridan recently spoke at our Optimization Summit in Atlanta and he absolutely knocked it out of the park. His down-to-earth style resulted in a presentation that was both educational and entertaining. His passion for content marketing is infectious our attendees raved about his session, rating him as one of the highest presenters at our event.  If you haven't had an opportunity to see Marcus in person, do it – he's outstanding.

Paul Clowe

Senior Director of Finance & Operations, Primary Research

MECLABS / MarketingSherpa
The following are my areas of specialty with speaking:
Industry Trade Shows and Conferences
Marketing Conventions
In-House Social Media/Content Marketing Summits
Schools/Universities
Speaking at HubSpot's User Group Conference (Note** This talk was given a perfect score by attendees in 2012, something that had not previously been done at the event)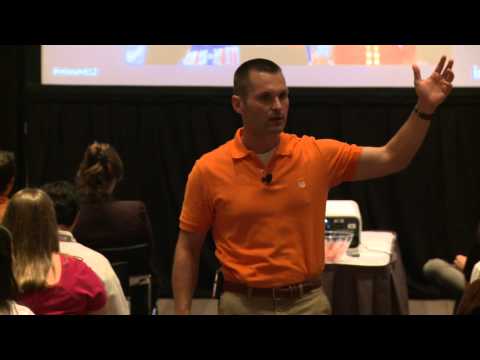 Interested in learning more about potential speaking services for your next conference or company event? Contact me today at marcus1@thesaleslion.com .